About SERVPRO of Paramus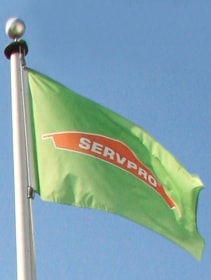 Anthony & Danielle Palumbo
Owners of SERVPRO of Paramus
As part of the beautiful Garden State, our SERVPRO team stays vigilant and prepared for disasters and emergencies that can affect thousands of homes and businesses throughout our slice of New Jersey. We recognize how critical it is to get the right qualified personnel to an emergency promptly because making a customer wait is asking them to pay more or allowing their property to get more severely damaged. We care about our clients as a locally owned and operated team, and we are led by our owners Anthony & Danielle Palumbo, who know that disaster relief matters more when it is helping your neighbors and friends.
We also know that you do not have the time or the money to seek out qualified and reputable restoration specialists for every phase of recovery that your home or business needs. That is why our SERVPRO team features all of the personnel necessary to see your project through from the initial inspection and walkthrough into cleaning and the final approval from our customers and insurance adjusters. We offer a full-service, comprehensive approach to save you time and money.
We are gratefully a part of a Large Loss Recovery Team as well, helping to address widespread concerns that can impact our large commercial properties like Paramus Park or even more substantial homes and properties through Woodcliff Lake, River Edge, and other areas we serve.
We understand that our success over the years is not just relative to the speed of our response or the effectiveness of our certified technicians. In many ways, our regional success gets tied to how our team gives back to our communities and its people throughout Bergen County. We are always active in our area, with fundraisers, golf outings, and our involvement with Paramus Rotary, the American Red Cross, Knights of Columbus, and our work with the Westwood Fire Department and homeless veteran organizations.
Emergencies can occur in many ways, including water, fire, mold, storms, flooding, biohazards, and other damaging situations. No matter when disasters strike, you can count on our SERVPRO of Paramus professionals to make it "Like it never even happened."
Insurance and Payment Information
For a stress free claims process, SERVPRO works with your insurance to help manage the insurance process and paperwork.
We also accept the following credit cards for your convenience:





Certifications
AMRT - Applied Microbial Remediation Technician
ASD - Applied Structural Drying Technician
CCT - Carpet Cleaning Technician
ECTP - Employee Certification Training Program
FCT - Floor Care (Hard Surfaces) Technician
FSRT - Fire & Smoke Damage Restoration Technician
IICRC Certified Firm
LCT - Leather Cleaning Technician
OSHA - 30-hour General and/or Construction Industry Training Program
OSHA - Other Training
RCT - Rug Cleaning Technician
RRRP - Lead-Based Paint Activities and Renovation
UFT - Upholstery & Fabric Cleaning Technician
WRT - Water Damage Restoration Technician
Awards
Directors Platinum (Sales & Service)
Best Maintained Equipment
Millionaires Bronze (Sales & Service)
Best Maintained Equipment
Milionaires Gold (Sales & Service)
Millionaires Gold (Sales & Service)
Chairman's Bronze (Sales & Service)
Millionaires Gold (Sales & Service)
Chairman's Bronze (Sales & Service)