Paramus Residents Deserve Quality Water Damage Restoration
6/23/2022 (Permalink)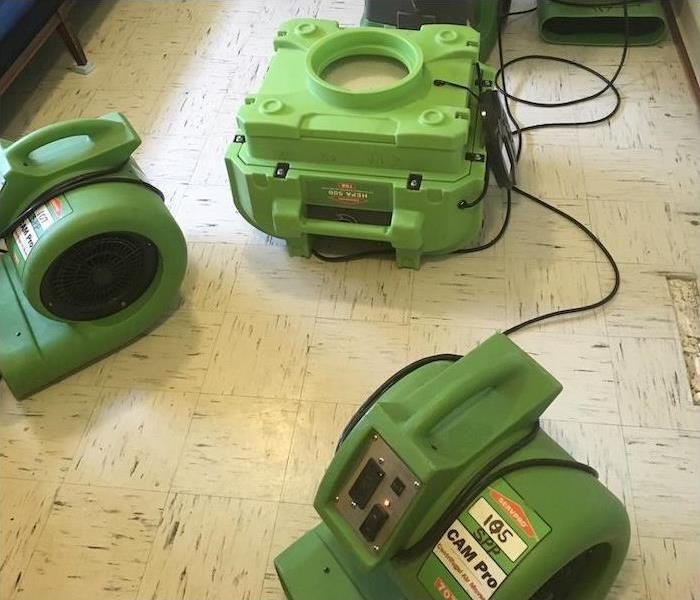 We have state-of-the-art equipment to handle any size water damage job. Call us right away to prevent further damage to your Paramus property.
Call SERVPRO for Prompt Water Damage Assistance in Paramus
One of the more prevalent forms of damage found in residential homes and commercial businesses is water damage. This is due to many causes that may sometimes go undetected. Any excess water can make its way into your Paramus property because of weather conditions like heavy rains and flooding. There could also be internal problems like leaking or burst pipes, excessive humidity, and leaking fixtures. Because the extent of the damage may be deceiving, having trained technicians from SERVPRO take a look is the best course of action.
While it may be tempting to address water damage in Paramus on your own, hiring a professional ensures nothing gets overlooked. DIY methods and someone with an untrained eye could make it where you have the potential for costly secondary damage or mildew and black mold growth. Here at SERVPRO, we have IICRC-certified water restoration technicians (WRT) with all the experience and equipment to handle any size residential or commercial water restoration project.
Top Reasons to Hire Skilled Technicians for Water Damage Issues
Aside from the need for results, there are plenty of benefits that come from having SERVPRO for water removal services and restoration, including:
Hidden leak and water damage detection – One of the most challenging things about water issues will be understanding the extent of the damage. Water gets absorbed into building materials like drywall, insulation, and wood. We dive in to follow the path of migration to ensure no moisture gets left behind, pinpointing and addressing the root cause of the water problem.
Professional-grade equipment, tools, and products – We bring state-of-the-art equipment to each water damage call to ensure all excess moisture and water get removed. This includes advanced drying equipment like air movers, shop vacs, drying mats, and dehumidifiers. There will also be helpful tools like moisture sensors and meters that find hidden moisture and tell us how we are doing as the project moves along.
Rapid response and proven methods generate results – Once you make initial contact with our customer care team, we arrive at your door within hours to get to work. We assess the issue and begin water extraction as soon as possible to ensure proper water mitigation.
How Can Professional Water Damage Cleanup and Restoration Save Me Money?
It may seem that hiring professionals for water damage are a cost that you cannot take on. However, it saves you time and cuts losses in the long run. We want all Paramus area customers to know that SERVPRO makes it "Like it never even happened" while working to restore versus replace whenever possible. Things to keep in mind:
Having our Green Fleet on the scene as soon as possible to perform water mitigation keeps water from getting absorbed into your building materials. It can generate more extensive damage or mold growth.
Restorations for extensive secondary damage and structural issues brought on by water and mold can be more expensive than calling us initially.
We work with the restore versus replace mentality, meaning we salvage and clean whatever we can to save time and money.
We are Your Insurance Liaison to Ensure Your Claim Goes Smoothly
Should your home or any personal belongings get damaged because of excessive water or moisture, you must file a claim for insurance compensation. We work with your insurance provider to ensure all paperwork is in order so that your claim goes off without a hitch.
SERVPRO of Paramus is here whenever you require skilled technicians for help with water damage. Call us 24/7 at (201) 445-5588!